May 2019
| Mon | Tue | Wed | Thu | Fri | Sat | Sun |
| --- | --- | --- | --- | --- | --- | --- |
| | | 1 | 2 | 3 | 4 | 5 |
| 6 | 7 | 8 | 9 | 10 | 11 | 12 |
| 13 | 14 | 15 | 16 | 17 | 18 | 19 |
| 20 | 21 | 22 | 23 | 24 | 25 | 26 |
| 27 | 28 | 29 | 30 | 31 | | |
Calendar

Who is online?
In total there are
3
users online :: 0 Registered, 0 Hidden and 3 Guests :: 1 Bot
None
Most users ever online was
32
on Sun Aug 25, 2013 4:55 pm
Weather
Fall:
October
Weather Forecast:
Fall fell upon the hidden Rain pack sooner than expected. Each day temperatures inch down lower and lower, but it's still too soon in the season for any strong rain. Nights are comfortable and alive with prey similar to the day. Rain showers and known to hit us this time of year. These showers come and go throughout the days lasting anywhere from a few minutes to hours on end! The territory is returning to it's lush mossy glory as this ideal weather continues to progress.
Natural Disasters
Season Changes
January 1st

Wolfs Name: Niyol Seyentari
Wolfs Nickname(s): Her favorite alias is Fox, the assassin name of her sister.
Wolfs Age: 2 Years
Wolfs Gender: Female
Rank Desired: Alpha Female -admin edit by stormshadow-
Photo of Wolf: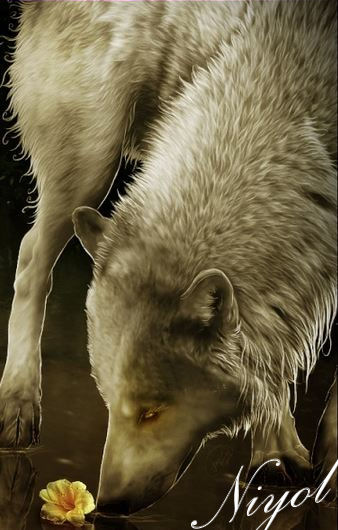 Build: Niyol has a thin layer of muscle hidden beneath her slender stature. HEr stature is elegant and extremely pretty, making her seem irresistible to men at first.
coat color: A pearl IVory
eye color: Striking Golden Amber
Wolf's Breed: She is from a direct lineage of Arctic Wolf
Personality: Porcelain princess is wrapped in ivory pure cloth, form fitting to er newly developed body, Striking ivory befits most of her frame, with the crimson flecked with orange bleeding into luxurious fur that is plentiful in short strands that cling to her body. The palette which houses these colors is small; quote noticeably small and all legs. The growing muscles she possess' are compact within the thighs, much like a petite prima ballerina. Beneath the veil of a lady lie the rosy cheeks of a child. Yellow eyes forever cast upwards toward the fixation of the moment in a gaze of inexperience and want usually given to those of the deity sort. The shepherd to her sheep changes form but is forever by her side. However tight her grip on them may be, it is incredibly fleeting, the mind like a child easily lost to a simple gaze of another. The world is large and fascinating, but she is incapable of navigating on her own. She may stray, but she will return to someone's warm side at night.
Emotions are strange things, foreign, hard to deal with, and come at her in such a way that makes her head spin. Most of the time, the catalyst is small or even non-existent, but the strength remains and digs into her like a fang on fire. The emotion radiates throughout her body and super sonic's outward like a ripple effect. Niyol is extremely empathetic in the way that, she doesn't wish to too feel the emotions of others, but they infect regardless. Miss Niyol has no plans to reign in her explosive emotional tendencies, as she sees nothing wrong with how she acts.
The pure-coated girl's moral compass seems to stretch every which way and is forever turning. Despite her emotional problems, Niyol tends to be generally warm at welcome, and intensely curious. Loyalty is an odd concept to her that she doesn't completely grasp and hurting others is in the gray spectrum as opposed to black and white, which applies to most of her views as well.
History of your Wolf: N/A, if she needs one, I will write her one.
Strengths of your Wolf: Her slender body makes it easy for her to reach high speeds. She is an extremely well hunter and fighter.
Talents of your Wolf: Can run very fast, very good hunter and fighter, can stay worthy to someone & or pack even with being bipolar, with a very good sense of smell, Niyol is a very fit hunter.
Weaknesses of your Wolf: Water, Niyol dislikes getting wet, but she will go through it if it's needed. Bipolarity,
General Habits: Speaking the blunt truth when she believes it is necessary,
Crush: N/A, will develope one later
Mate: None
Pups: None
Friends: None
Mother: Deceased Raniel Seyentari
Father: Deceased, Rasofier Seryentari
Siblings: Rasofiel - Sister, Mithira - Brother
Other: None
Your Level Of Activity (From 1-10): Going to get on as often as I can, and role-play as often as I can, I will try to be an 8.
Secret Password on the Rules: -admin edit by stormshadow-
Alpha





Posts

: 28


Points

: 37


Age

: 22


Location

: If you must know, I'm in Oregon.



The Hidden Rain Pack Lead Council Member





Posts

: 57


Points

: 78


Age

: 24


Location

: Los angeles





Similar topics
---
Permissions in this forum:
You
cannot
reply to topics in this forum